The Pierce Arrow Foundation Museum is fortunate to have on display a 1912 Pierce Four motorcycle, through the generosity of F. Arnold Romberg of La Grange, Texas.
This motorcycle has been on loan to the Museum for a number of years and has now been donated to the museum. It is in original condition and, as is often so desired in today's collector world, has a "delightful patina"! We are very grateful to Mr. Romberg for this generous donation of a wonderful piece of Pierce history.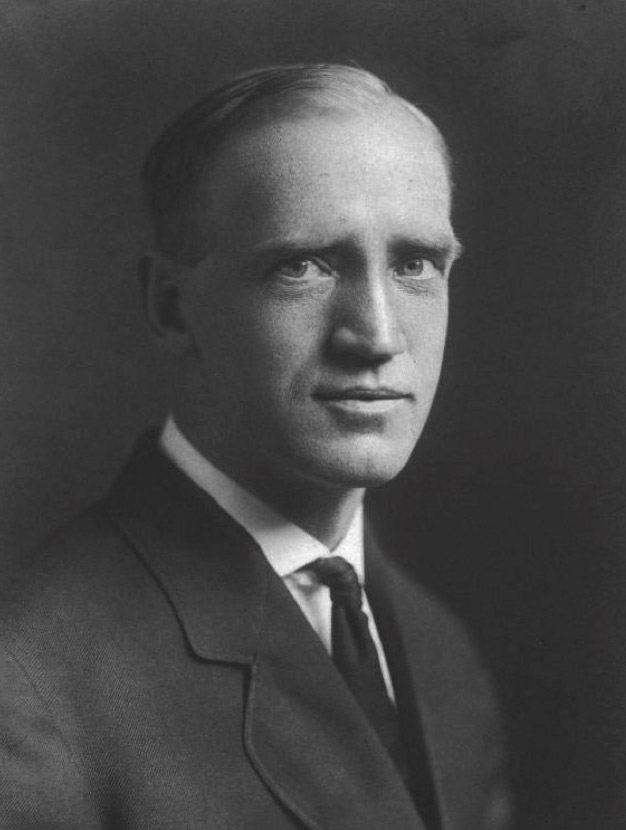 George N. Pierce founded the Geo. N. Pierce Company, later to become the Pierce Arrow Motor Car Company, and he had a son, Percival Pieronnet Pierce. Percy, as he was known, enjoyed driving Pierce automobiles in competitions, and was very successful in both the United States and Europe in the early 1900's. He was born February 22, 1878, so he was a young participant in what were basically endurance tests of the automobiles. He married Lallie Jo Moody, and they had one child, Jeannette Pierce, in 1909. He died August 28, 1940, at the age of 62, while his wife lived to be 88 years old, passing away in 1971.
By 1907, the Pierce Arrow Motor Car Company had moved into a new facility on Elmwood in Buffalo, New York. This meant the old production facility on Hanover and Prime Streets in that town was no longer producing automobiles, and Percy wanted to not only continue building bicycles, but also start manufacturing motorcycles. Percy was appointed head of the Pierce Cycle Company, shares of stock issued and sold, and developmental work began.
At the time, some European manufacturers were building automobiles and motorcycles more advanced than what was being produced in the United States. Following a Pierce factory tradition, Percy went to Europe to steal, that is, investigate, the latest in motorcycle technology. It was not the first time that inspiration for a Pierce named vehicle was sought overseas. Acquiring a 1908 FN four cylinder motorcycle was the first step in the design of the Pierce Four, a high end motorcycle which would be sold along with a Pierce Single.
Sales of the Pierce Four began in 1909, and it was a high quality bike. It was not only the first four cylinder motorcycle built in the United States, but also the first shaft drive motorcycle this side of the pond. Power was a T-head engine which displaced about 42 cubic inches. The engine was a structural member of the frame, the remainder of the frame consisting of tubes which were cleverly used as oil and gasoline storage and to hide control cables.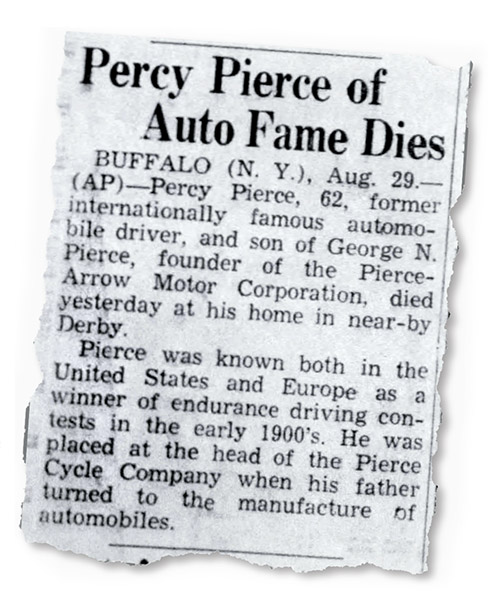 It was an expensive bike, and it was rumored that the sale price was less than the cost at the factory to build it. While Percy may have been a great competition driver, apparently his business sense was somewhat lacking, and The Pierce Cycle Company went out of business in 1913.
Soon after, the Pierce bicycle business and name was sold, and production of those two wheelers moved to Angola, New York.